Integrating AdSense into Google Analytics (& Why You Need to Do It RIGHT NOW)
Did you know that Google now allows you to import your AdSense data into Google Analytics? Did you know that once imported into Google Analytics, you have access to granular AdSense data that is not available through standard AdSense reporting? Do you know what to DO with this information to make more money?
I've got a quick and actionable post for you.
Integrating AdSense with Analytics is nothing new. But, I still talk with people every single week whose revenue is dependent on AdSense, yet don't know about (or simply aren't using) the feature.
First things first, you need to connect AdSense to Google Analytics, and you need to do it right now. Why?
Because they don't show you historical data (though they no doubt have it). You will only be able to see the cool new statistics post integration. The sooner you connect them, the sooner you can analyze enough data to get reliable insights and make smarter monetization decisions.
Integrating AdSense into Google Analytics
Log in to Google Analytics
Click "Admin" at the top of the page
Under "Account" (left column), choose the account you want to connect
Under "Property" (middle column), choose the specific property you want to connect
Click on "AdSense Linking" in the middle column
Select the AdSense property you want to connect to this analytics profile
Click "Continue"
Select which analytics views you want AdSense data to appear in (for most of you, that will simply be your main analytics account
Click on the "Enable Link" button
Click on the "Done" button
That's it. Now your AdSense account is connected to your Google Analytics account. It takes about 24 hours for data to start appearing, but remember, it will only show the data collected AFTER you connected AdSense to your analytics account.
What now?
First up, while fun to look at once it starts reporting data, analyzing too little data equates to making assumptions. You won't have anything truly concrete to go on for at least 30 to 60 days (or possibly even longer depending on how much traffic you get).
Edited on 8/20/15 to add:
Please note that Google Analytics has renamed the "AdSense" tab (and metrics within it) discussed below to "Publishers." This is because GA has added the ability to also see reporting on Google Ad Exchange, along with AdSense. If you're not a part of Google Ad Exchange, then the only data listed under this tab will be AdSense data.
To find the AdSense data, log into Google Analytics and click on the property whose data you want to view. In the left column on the main dashboard, click the "Behavior" tab. Go to AdSense > Overview. There you'll find your AdSense dashboard.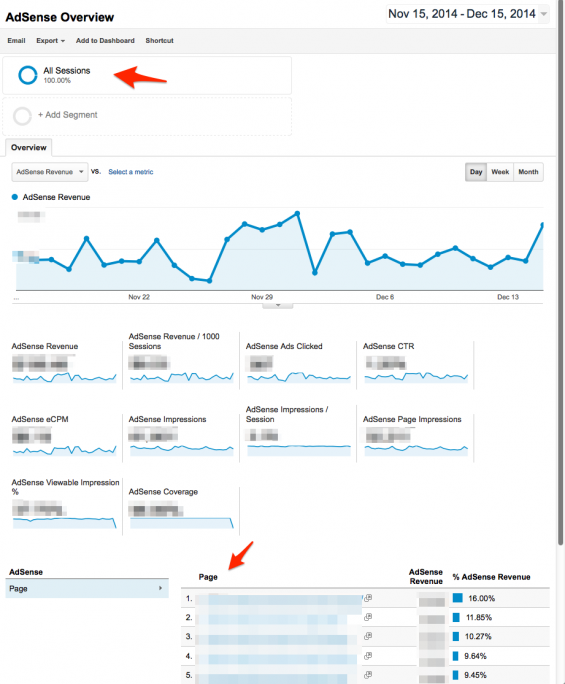 Now, you'll see some pretty standard stats here that you see in AdSense.
The three most important things you can do and see now that you've integrated AdSense and Analytics?
The ability to segment your AdSense revenue based on things like organic traffic, paid traffic, returning users, mobile traffic, etc.
The ability to see which pages are generating your AdSense revenue (without needing to have custom channels setup)
The ability to see how much specific referrers generate in AdSense revenue
Example 1
Let's say I want to see what percentage of my AdSense revenue comes from users viewing my site on a desktop or a tablet vs. those who view my site from a mobile device. Next to "All Sessions" at the top, I click the "+" button and tick off the boxes next to "Mobile Traffic" and "Tablet and Desktop Traffic" and click apply. What results is a dashboard showing me the data for each.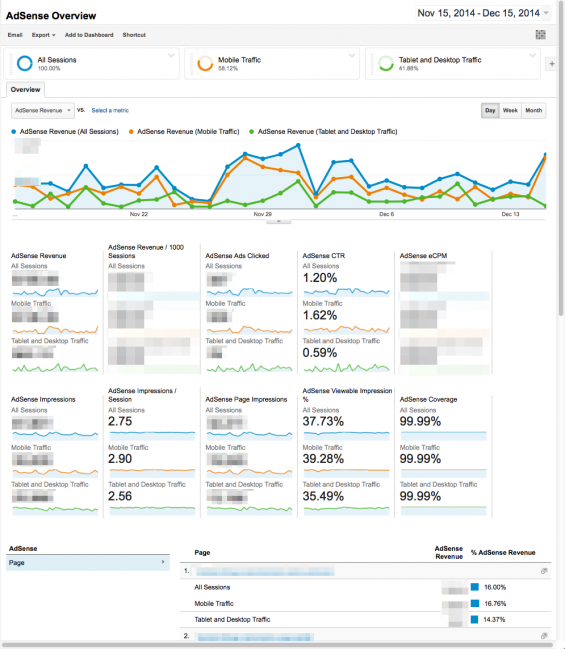 In this particular example, you can see that mobile traffic accounts for 68.35% of the overall AdSense revenue for this site, despite mobile traffic only accounting for 58.12% of the traffic. It will even break down these stats on a per page level. Knowing that the majority of the AdSense revenue from this site is from mobile traffic means I know to make the mobile experience the top priority when it comes to design decisions and optimization efforts.
Example 2
By going to Behavior > AdSense > AdSense Pages I can see a list of the site content with the AdSense statistics broken down to the per page level. For example, instead of simply knowing the overall CTR for my site or a custom channel, I can now see the CTR of specific pages. Instead of only knowing which pages are most popular traffic wise via analytics, I can now also see what kind of articles drive the most AdSense revenue, have the highest CTR and most important, have the highest eCPM.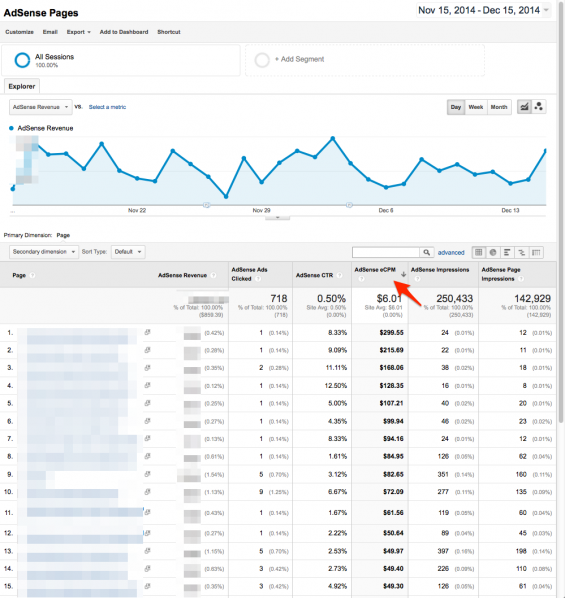 I can use this data to see which pages would make the most sense to work on as far as increasing traffic to. This data can also help me identify high revenue micro-topics to create more (valuable) content around.
Example 3
We've all heard the debates about the value of social media traffic. E-commerce sites have the ability to track conversions based on referrer, but bloggers depending on AdSense earnings didn't have that luxury. But, wait – you do. Go to Behavior> AdSense > AdSense Referrers to see a nice and neat list of AdSense revenue based on referring domains. Spending a lot of time promoting your blog on various social channels? Sure, traffic is great, but wouldn't you rather spend your time on the networks that stand to drive your blog actual revenue?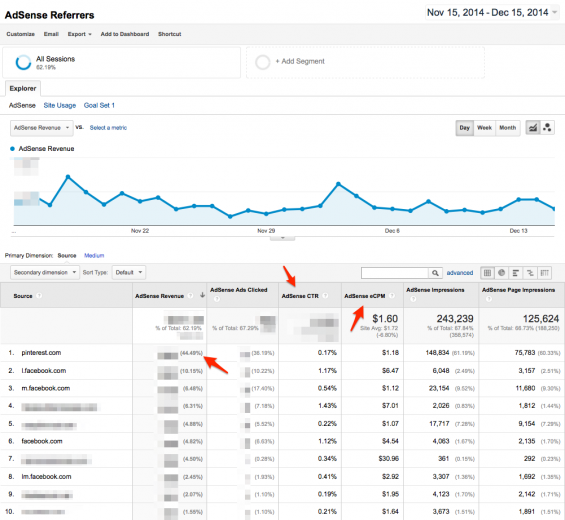 These reports let me see that, in this instance, Pinterest drives 44.49% of the AdSense revenue, but the traffic from Pinterest has a horrible CTR. Sorting by CTR allows me to see that links from other bloggers have the highest CTR when it comes to AdSense.
Doing a search for "stumble" showed me that while this blog was stumbled 1,404 times in the last 30 days, not a single stumbler clicked an AdSense ad. Another site I own received 7,322 stumbles in the last 30 days but those visitors only generated three clicks for a .08% CTR. Let's just say I'm not focusing any effort on getting traffic from StumbleUpon for these sites (solely from an AdSense perspective).
(Edited to add: Find out how to create custom reports that show you what social media networks are driving your revenue.)
To recap:
Integrate your AdSense account with your Google Analytics account – right now
Wait until you have a decent data pool to draw from (probably about 30-60 days)
Use the data in to increase your AdSense earnings
What Else?
There are so many ways to break down and utilize this data that you'd have to write a book to cover all of them. I have no plans to do that, LOL. However, I WILL be offering up some mega tips and training for bloggers in 2015. So make sure you're subscribed to my newsletter, so you don't miss out on them.
You might also want to check out these posts:
How to get actionable data from the new Google AdSense reporting interface
Please note – I use affiliate links on this site. This means I might earn a commission if you click on a link and sign up for something.