SEMRush Review – A Kickass Keyword Research Tool, Rank Tracker & More
I've known about SEMRush for a long time. I'd heard people mention it and had seen the site, but I'd never really used it until my partner in my agency signed up for it. He loved the service – and since we were paying for it – I decided to fully check it out.
It quickly became one of the tools you'd only be able to take away from me by removing it from my cold, dead, marketing hands.
Check out the awesome (and free) tutorials on how to use SEMRush to help you make more money in your SEO and affiliate marketing efforts listed at the end of this review!
(You can use SEMRush for free, but realize that the number of results it shows and how far you're able to drill down is severely limited without a paid account.)
The main dash
Type a competitor's domain into the search box at the top, choose your country (default is the US and obviously is what I use) and click search. SEMRush will return a dashboard screen with overview statistics of the domain. It defaults to showing you data from Google, but you can toggle it at the top left to show you the same overview data via Bing. (For the examples below, I've used dell.com for the research.)
At the top left, you'll see an estimate of their organic and paid traffic and the estimated value of each. To the right, you'll see an estimated guess of their search traffic. (Click on all images to enlarge.)


Beneath that chart, you'll see an overview of organic traffic by country, paid traffic by country and traffic broken down into organic vs. paid. You can mouse over the graphs to get SEMRush's actual number and percentage estimates.


Now these numbers are estimates. In my experience, they're off as far as the actual number value, but the trend lines are usually on point.
For example, we may see SEMRush say a client has 20K visitors per month when the actual number of visitors we see in analytics is 40K per month. However, the trend line is usually on point. If analytics shows a huge drop in a month, then SEMRush typically will as well, despite the actual numbers usually being lower than actual estimates.
Same goes for organic traffic vs. paid search traffic. The actual numbers are off, but the percentage split is usually pretty accurate.
Next, you'll see an (exportable) listing of keywords split by organic keywords and paid keywords that SEMRush believes are driving traffic to the target site.

Before Google started ripping keywords from us, comparisons of SEMRush's guesses vs. what showed in actual analytics was a fair estimate. I say fair because while the numbers were far from exact, the actual keywords and distribution of them were on point enough that we could use the data with some confidence.
For example – a keyword typically doesn't send the amount of traffic SEMRush estimates, but it's estimate of which short tail keywords were referring what % of traffic was close enough to be useful. More on how I use this data further below.
Next, you'll see an exportable listing of who SEMRush feels are your biggest competitors in both organic and paid search.

Followed by a listing of their unique AdWords ads, text ads, media ads and a listing or potential places ad buyers and sellers (all of which can be downloaded).


On the left of the dash, you'll notice a sidebar that allows you to drill down into most of the segments shown on the dash (and a few additional ones). In this review, I will be focusing on the "Organic Research," "Keyword Research," and "Tools" sections as those are the three I use most.
Organic Research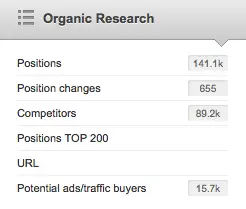 Positions
The positions view will show you a variety of things. The ones that hold the highest interest for me are:
a chart of what SEMRush believes to be the top keywords driving traffic to the domain
the current and previous position of their rankings for said keyword
the estimated yearly search volume for those keywords
the estimated average CPC of ads on those keywords
the specific page on their domain that ranks for the query
the estimated percentage of the overall site traffic that keyword accounts for
the estimated trend of the search volume on that keyword over the last 12 months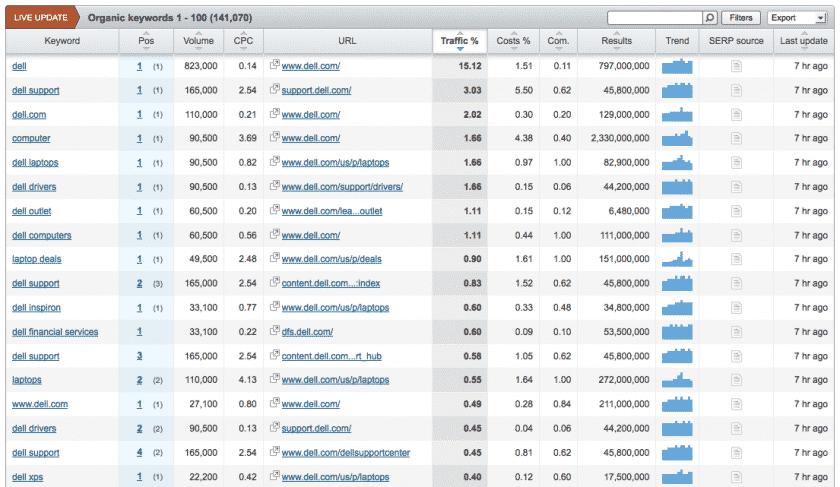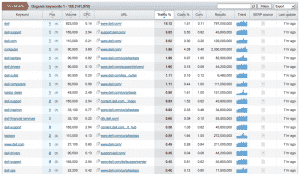 You can also drill down on a lot of data from this dashboard. For example, let's say we click on the term "dell computers". SEMRush will show you:
a summary for the keyword
an enlarged view of the estimated search trend for that keyword
a listing of all phrases that SEMRush believes is sending the domain traffic with those two words in them
a listing of keywords SEMRush feels is related to "dell computers"
which domains rank in the top 20 for that keyword and the specific URL on their domain that is ranking
a listing of sites that are advertising on that term via Adwords
And you can keep drilling down from there – including clicking on the URLs listed next to the keywords to see a breakdown of what search terms SEMRush believes drives traffic to that page.
I find this section useful as an agency for several reasons.
it helps me get a loose sense of how much traffic a site is getting in regards to brand terms vs. generic terms (which is hugely helpful in estimating a client's traffic growth potential and opportunities in organic search. And showing them where they stand in this area vs. their competition)
it helps me identify new keyword opportunities that have already proven to be traffic drivers for the competition (by SEMRush estimates)
it helps me identify complimentary topics on competing sites that drive traffic
it helps me identify which content initiatives that a competitor has done were most successful regarding driving traffic
helps me set realistic traffic goals and expectations on content marketing initiatives as well as gain some insight into the potential ROI of said content development
I find this section useful as a blogger for many of the same reasons. Let's take my personal blog. A lot of the posts I do on it are primal recipes. Doing a competitive search on *THE* A list blogger in that sector (marksdailyapple.com) shows me that SEMRush estimates his #3 keyword containing the word "recipe" is "primal diet recipes."
Primal isn't really a diet – it's more of a lifestyle change. So I wouldn't have thought to optimize some of my current content to contain that phrase. But now I know that I probably should.
Doing a search within his positions listing for "chicken" shows me a list of what SEMRush believes to be his top traffic driving keywords on the topic. This allows me to see that his "perfect roasted chicken" recipe page is one of his most trafficked chicken recipes. By clicking on the URL, I'm able to see a full list of the keywords SEMRush believes to be driving traffic to that page.
While I don't have the authority in the niche that he does, picking a less competitive keyword driving traffic to that page and creating a recipe for roast chicken would probably be worthwhile.
My big gripe? That if you enter a subdomain, it returns results for the root domain – which can be a real pain in the ass if the subdomain greatly differs from the root domain.
Position Changes
The position changes section allows me to view the ranking changes for the site I'm researching. It has two main views – positions new and positions lost:


And positions improved and positions declined:


There's also a detail view on each of the above four where you can see and drill down for more information by keyword as well as sort the results to show in a variety of different ways: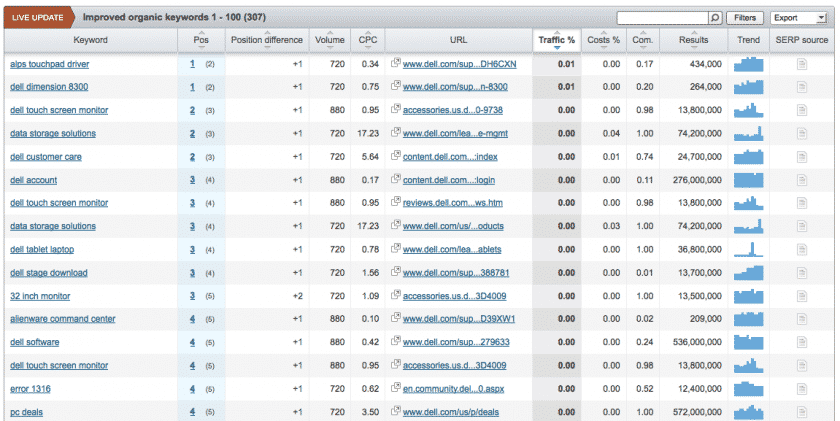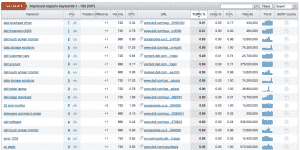 Competitors
The Competitors tab shows you a listing of what SEMRush believes to be the top competitors to the site you're researching within organic search. On this screen you'll see:
a listing of competitors to the research site ordered by competition level as determined by SEMRush
the number of keywords SEMRush believes you have in common
a listing of the keywords the competitor site has rankings in the top 20 for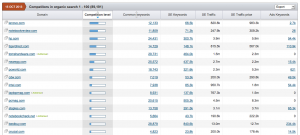 Along with a few other pieces of information. You can also drill down on any of these listings to see detail listings. For example, if I click on the number listed under Lenovo's top 20 keywords listing, it will show me a detail screen consisting of those keywords.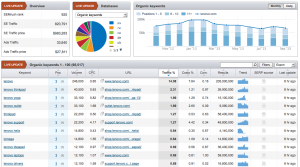 Positions Top 200
This screen can be a bit hard to "figure out" in regards to what the hell it's for when you first view it. What this screen does is show you high potential keywords you already rank for, with what page and estimates how much traffic the keyword WOULD drive you if you managed to take the #1 position on it.
from what I've been able to gather, duplicate listings are merely from them finding multiple pages from your site ranking in different positions for the keywords listed.
You have to take this section with a grain of salt because it will "suggest" a lot of keywords you don't want or need to rank for. For example, let's take a look at the listing shown for the Sugarrae.com site: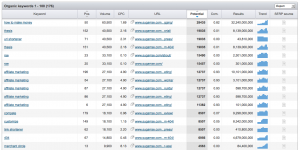 Some of these phrases I'd see the value in ranking higher for. Others such as "URL shortener" and "customize" would bring me no ROI.
What would be REALLY cool with this section would be if I could input my OWN list of keywords to get an estimate from SEMRush re the traffic potential of focusing on increasing ranks for them.
For instance, I'd love to be able to pop in someone's 50 highest converting keywords from their AdWords campaign and run them through this tool to get some input on the organic potential for them. No tool should be followed blindly – but it would be a nice piece of input for making prioritization choices.
URL
The URL tab allows you to enter any specific URL on a site you want and will return a list of keywords SEMRush believes are semantically close to the content of that page. It will then show you the estimated traffic volume of those keywords as well as where you currently rank for them.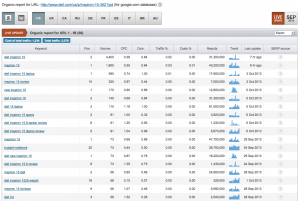 I find this of use when I'm looking to improve the content, traffic, and rankings of a specific page that already exists on a site.
Potential ads & traffic buyers
This section is kind of interesting – especially if you're a blogger that allows advertising and has traffic (key phrase being has traffic). You'll be presented with a list of sites that pay for ads on the keywords you hold top 20 positions for as shown in this screen for the Sugarrae.com domain below: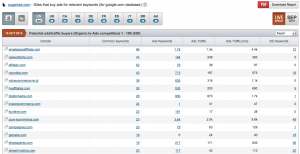 If you were an enterprising individual with a significant amount of traffic, you may find it worthwhile to contact the sites you'd be willing to advertise to discuss the opportunity for them to advertise directly on your blog (without paying a middleman) or potentially develop some JV opportunity between you both.
Keyword Research
Aside from a trend graph and some minor statistics, the Overview tab in this section contains simply that – an overview of the data available in the other sections.
Note, if you're in the middle of running searches on domains when you first click on this section, you'll likely get some message about there being no results to show. You'll need to enter a search term vs. a URL in the search box at the top of this screen and rerun the search.
For example, in the screenshot below, I had to replace sugarrae.com (keyword) with affiliate marketing (keyword) to get results. A little clumsy, but it's how it works for now.
Full search / Related Search / Ad History
Once you enter in the keyword and run the report, you'll be presented with the following on the main Overview screen (the tabs labeled above in the sidebar merely take you to these specific sections showing only their data). You can also click on their headings on the main overview screen to get to show only those specific reports. What you'll find:
a trend graph showing the estimated keyword volume for that phrase over the last twelve months
a phrase match report which shows keywords with the word phrase
a related keyword phrase report that shows keywords SEMRush feels are related to your original keyword search
a listing of the websites that rank top 20 for the phrase, as well as the specific URL on their domain that is ranking
a listing of the websites that are advertising on that keyword phrase and the ad history on that phrase (if any)
You can drill down on any sub-keyword listed to get the same report above for it – and continue to do so until you've hit the keyword wall. The way these reports are coupled together for me make the keyword research process a lot quicker.
For example, being able to see at a glance who is ranking where for every keyword along with the typical keyword data every tool presents about volume, etc means that if I'm working with a new site and see their short tail keywords are owned by authority sites, then we know to head down another level and begin the campaign with those more realistic targets.
Seeing whether or not it's all root domains ranking for a phrase or individual site pages (which can give you a hint as to the ranking difficulty of the keyword) is extremely helpful as well.
My only complaint with this feature is there is no way to add keywords to a "list" so to speak that you can later download. You either have to keep track of the words using your own method or export the full list and delete the keywords you don't want.
That said, the time it saves me on both drilling down on keywords and providing rank competition well outweigh the extra time and pain in the ass to copy and paste the keywords I'm interested in into Excel.
However, if someone from SEMRush should ever read this, the ability to make a list of keywords I "want" from these master lists that I can then export ala the way I can with "all keywords" would rock.
Tools
The tools section is a little bit new, but it can give you some pretty freaking awesome data.
Position Tracking
First off, this tool is in beta. That said, I've yet to run into any glitches with it, and I love the freaking tool. Here's how it works:
you click the start a new campaign button
enter in the domain you wish to track and give the campaign a custom name if you'd like
choose the target country of your website
next up, you choose the competitors whose ranks you'd like to track for the same keywords as the root domain you're setting up (you can always skip this step and come back to it later)
you can also connect the campaign to the Google Analytics and the Google Webmaster Tools of the root domain in said campaign
add the keywords you wish to track for the root domain (and competitors if applicable) – for this step you can either type keywords in, pick them from the ginormous list of keywords SEMRush has, upload a text file or pull keywords in from Google services. If you hand add them, be sure to move them from the "sandbox" to the actual keywords being tracked
leave the box ticked to be emailed weekly campaign updates or uncheck it if you'd prefer
click save
Then you should see the following on the main position tracking screen:

Unfortunately, you may have to wait up to an hour before this report will show you anything (though it's usually quicker than that). In order to be able to show you some results, I created a new position tracking campaign for Sugarrae – using affiliatetip.com and missyward.com as competitors, despite the fact that we target different markets because I didn't want to put my actual competitors on blast (waves to Shawn and Missy) and added in five keywords so you could see how the report looks: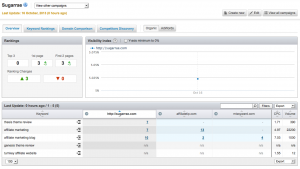 Over time, this report will also show whether the positions listed for each are up or down compared to the month before. There's also multiple ways to toggle and compare the data on the Keyword Rankings and Domain Comparison tabs at the top of the report. The Competitors discovery tab will attempt to identify competitors you may not have thought to add yet.
And you can choose to have it show you either organic or ad data for the above.
Domain vs. Domain
Here's SEMRush's very pretty explanation of what the domain vs. domain tool does: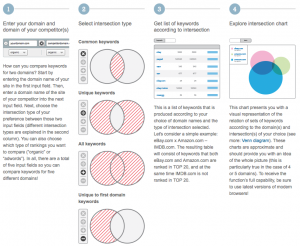 Add in your competitors, choose whether to view organic or AdWords competition and click go. You'll be presented with something that looks like this: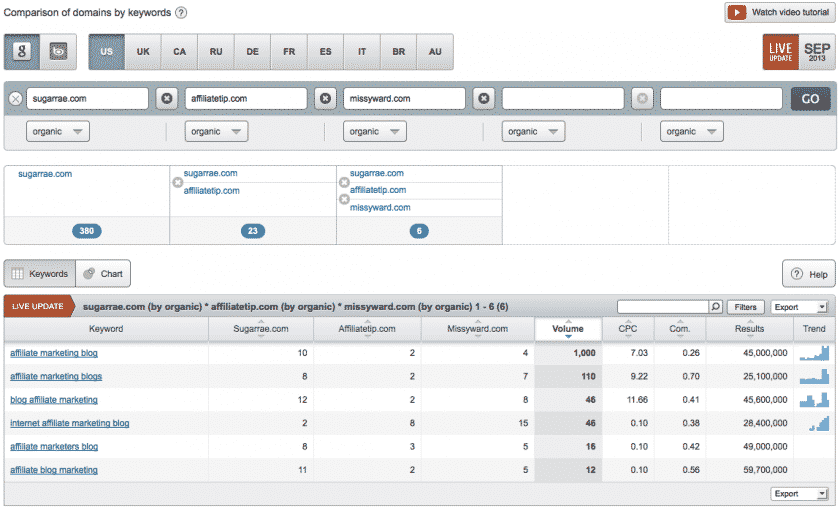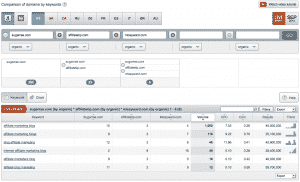 By default, the report shows you a listing of the common keywords between the domains. Now, here comes the part about this tool that annoys me.
If you want to see this report based on alternate views (say on unique keywords), then you have to know to mouse the X button (which, if someone from SEMRush reads this, is universal in computer lingo for "close" or "delete") and then mouse over the other math symbols for a popup to appear so you know which symbol is which view, and then choose it.
I get it – I do, you need to save space. But maybe make that X symbol a "?" symbol so we're not afraid to put our mouse near it and then have the drop down with the other symbols contain the name of the view beside it? #justsayin
However, usability gripe out of the way, this tool rocks.
So now we're looking at a list of keywords the three sites I added to the tool have in common. But, my favorite part is when you click the option to view this as a chart.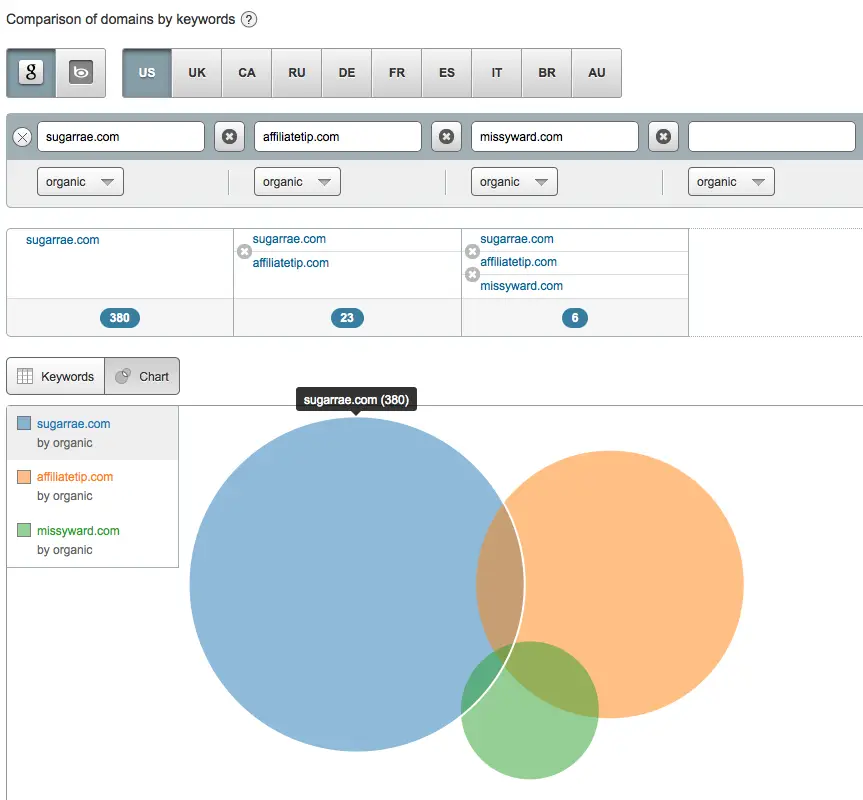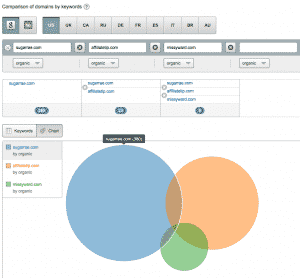 You can also drill down to see segments of the comparison – such as only sugarrae.com vs. affiliatetip.com. The cool part about this chart is that it shows you:
the number of keywords SEMRush has identified that you rank in the top 20 for
the number of keywords SEMRush has identified that comparison domains you entered rank in the top 20 for
where the keyword overlap is between all of you
You can mouse over any part of the chart (even the overlaps) to get exact numbers (according to SEMRush). One of the biggest reasons I love this tool is because of the ability to show potential clients how much more territory they have that they can cover.
Nothing is more awesome than asking a client who their two biggest (realistic) competitors are and then showing them a chart that looks like this – with the potential client being the blue circle.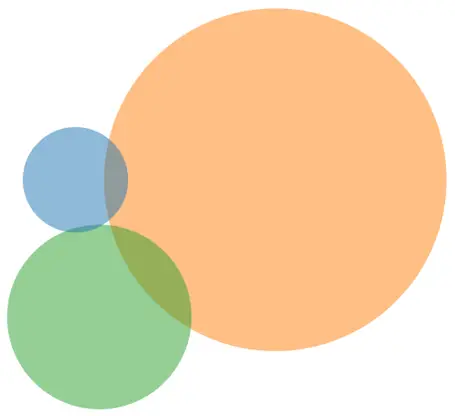 Because you're opening their eyes to the potential that online marketing can hold for them. And as a consultant, you can feel confident that the ROI on your services will be there for them when you provide them with an awesome marketing campaign.
As a blogger, I find this tells me which of my competition is rocking it as far as organic search exposure (and therefore I should pay attention to). Just because someone ranks for "your main keyword" doesn't mean that they rank for anything else.
If I compare my site to a site I believe is my competition and they have a giant circle, and I have a much smaller one – and there isn't a ton of overlap, despite me considering us to be remarkably similar sites? Then it's time for me to click on the piece of the pie I don't overlap with and get to work on creating some new content for topics I haven't thought to do so yet.
Charts
I don't use the charts section of the tools, but they do have the ability for you to create and export tons of different charts if you need to.
Pricing & Plans
SEMRush has two plans and three pricing options. The Pro plan is $79.95 for one month of access ors $69.95 per month if you put your account onto recurring billing (meaning you use more than a month of the service). If you're an individual blogger, consultant or smaller agency, you should be just fine with the Pro plan.
The plan we use is the Guru plan. We use that because it gives us the ability to do three simultaneous sessions (meaning myself and another employee can both be logged into the main PushFire account at the same time). It also has some higher limits and stores historical data. The Guru plan is $149 per month and is setup using recurring billing.
However, please note that the Guru plan mentions that you can get branded reports (meaning you can have your company logo on them). However, understand that it says "branded" and not "white-labeled." The reports generated on the Guru plan will carry your logo, but it will also still carry the SEMRush information as well.
I asked, SEMRush answered
Curious as to how they are pulling traffic data and keyword data (about how much traffic they believe those keywords drive), I contacted SEMRush to see if I could ask those very questions.
To be clear, I have no association with SEMRush (aside from being an affiliate for them since I love the service so much). I merely emailed them out of the blue hoping to get a response.
I spoke with David Black, Head of Customer Relations and Video Content Development at SEMrush. Here's what he told me:
Rae: You offer estimated traffic data for sites. How do you determine how much traffic a site is receiving without access to their analytics? Additionally, You offer a listing of keywords you (SEMRush) believe drive traffic to a site. How are you identifying those keywords and how does Google's recent move to 100% secure search (not provided) affect your ability to identify those keywords (if at all)?
David Black: We take a database of the top 95 million keywords worldwide and automatically query each keyword on a regular basis. Sometimes, as often as every day, depending on the popularity of the keyword. Then, we record the first two pages of search results for each keyword and parse that source data in order to determine which domains rank for these keywords and where.
Since we're looking at Google from the outside and reflecting what we see, that's exactly why we're not affected by the "(not provided)" issue.
In order to determine a domain's traffic coming from organic and ads keywords, our algorithms factor in the search volume for each keyword in their report, along with their ranking position to find what percentage of the monthly search volume is going to them based strictly off of where they rank on the SERP. We do that same calculation for each keyword and then total it all up.
Much more than your standard keyword research tool
The bottom line is, this tool is one of my "top five" tools – as both an SEO agency and an individual blogger. My partner in PushFire finds it extremely valuable as a PPC agency as well.
If you're like I used to be and thought SEMRush was simply "another keyword research tool" then hopefully my review gave you some insight on how much more it does and why, for me, it is most definitely a service worth paying for.
Tutorials to help you get more out of using SEMRush:
– Identifying the "money keywords" for SEO & affiliate marketing
– Brainstorming for profitable niche ideas
– Researching a niche – step by step
– How to find awesome affiliate programs
Please note – I use affiliate links on this site. This means I might earn a commission if you click on a link and sign up for something.