My Hero – CJ Hoffman 10.02.97 to 11.29.12 – RIP
This post is unequivocally the hardest post I will ever write in my life. Some of you already know from being on my Facebook, but I felt it was time to let those not connected there to me know.
Last night, my son CJ, the reason I even have my career and the driving force behind my stroke walk efforts entered the hospital with Pneumonia. I booked a plane ticket minutes later to go to him, knowing full well it might be to say goodbye — but I got another call shortly after from his Dad…
CJ had lost his battle with Pneumonia. He drew his last breath – peacefully – at 9:45 PM. I received the call at 9:55 PM as I packed to head to Tampa to be with him. Less than 90 minutes after he entered the hospital and appeared "stable" as they said it. I then had to tell my other children the news that their brother had decided he'd had enough and that it was time to go to sleep, one last and final time.
This morning, I landed in Tampa – except that rather than see him, I spent the day booking his funeral arrangements and writing his obituary. No one should ever have to bury their child. I knew this day was coming. We always knew it was coming. I thought I was prepared for it. But no amount of preparation can ever truly prepare you for that moment – that single moment – when you realize THIS SHIT IS FUCKING REAL.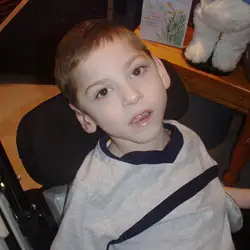 CJ was, is and always WILL BE my HERO.
The difference he has made in this world – from furthering stroke research to being the driving force behind creating an organization that helped over five thousand families around the world, to helping to raise over twenty-five thousand dollars to fight stroke with the AHA.
Without him, I wouldn't have had this career, and anyone I helped wouldn't be in their situation either. He may not have been able to talk, walk or even recognize that I was his mom, but he made all the difference in the world in the fifteen years he spent on this earth.
CJ had a RIPPLE EFFECT that will NEVER be able to be measured or given true value.
His smile, his light, his courage – it will forever live on in the hearts of myself, his Dad, his siblings and everybody that has ever had the absolute pleasure to know what an innocent, courageous, happy, tough little man he was.
CJ's memorial service will occur on Tuesday, December 4th, 2012 starting at 5 PM at the Merritt Funeral Home in Spring Hill, FL.
Addendums
I wanted to update this post to thank several people. For all of my colleagues and friends who sent flowers to the service, please know that I appreciated it more than you will ever know. It went noticed by everyone in attendance and was an amazing tribute to how many people CJ had touched in his lifetime.

I'd also like to thank BlueGlassX for holding a fundraiser for the AHA in CJ's honor after learning why I had to cancel out of the show. The fundraiser raised over $9000 since CJ has passed. Thank you to every single person who made that happen and who contributed to showing that CJ's legacy and impact on this world is far from over. The same goes for those who contributed almost $3000 during that same timeframe to my personal stroke walk page with the Houston AHA.
Outside of the priest, I was the only person who spoke at CJ's service. I read two letters to him from two of my other children and then did his eulogy which I had written for him. It was suggested that I share the eulogy with the so many of you who showed your support for my son but weren't able to attend. The eulogy is below.
Thank you again for showing what meaning he had on life. It will always mean the world to me.
CJ Hoffman's Eulogy
On October 2, 1997, Chris and I were given one of the greatest gifts anyone could have ever been given – our son CJ. Two weeks later, our perfectly healthy baby boy had a massive bilateral stroke that damaged over 85% of his brain. The doctors told us he'd never walk, never talk, never smile – he'd never even know who we were.
The doctors weren't completely right. CJ had a smile that lit up the room. He may not have known we were "Mom" or "Dad" so to speak, but he knew our voices and our faces. He knew we were the people that made whatever was wrong at the moment ok. CJ was our first child. We didn't know how much easier it "should have been" – we simply knew he was our boy and that we loved him.
CJ is the absolute definition of a lot of words. Strength, innocence, light, determination, kindness, love, purity. But the one word I'd use to ultimately describe our son was courageous. He never "complained" throughout his life. He wasn't an unhappy child. In fact, he did nothing but smile through most of his 15 years. Through the hospital visits. Through the seizures. Through the medications. Through every ailment. When Chris and I were feeling down or feeling like we'd had more than we could take – one look at our son's smile – his pure courage – gave us the resolve we needed to be able to continue on.
On November 29, 2012, CJ made the first decision that he's ever been able to make for himself in the 15 years he spent on this earth. The decision to let go. It's not one to be sad over or one to be angry over. It's simply one we have to respect and understand. Wherever it is that we go when we leave this earth, it's a place where he undoubtedly has a hand better than the one he was dealt here.
He's with his Grams and Grandad, Uncle Brian, Grandma Kay, his Great Aunt Susie and all of the other family that has gone before him. In fact, I'm sure the first words he uttered after finally being able to speak the words that had been trapped in his mind for so long were to tell my Aunt, who talked even more than me, to "Shut up Susan" with an approving nod from my Grams.
Most people may wonder what a child trapped inside his body could have possibly contributed to the world. But everyone in this room knows otherwise. Our son contributed more to society in his 15 years than most people will in a lifetime – myself included. CJ had a ripple effect on this world that will never truly be able to be measured or given an accurate value.
CJ's life was the driving force behind the creation of the first national support group for parents and families of pediatric stroke survivors to ever register with the American Heart Association – a group that has helped over 5,000 families worldwide since it's inception over a decade ago. He has appeared in national newspapers and national TV shows inspiring awareness and research for pediatric stroke.
His situation was responsible for me falling into my career. Without him, I never would have achieved what I have. Every person I've ever trained, motivated, helped, contributed to or helped to change the financial situation of only has him to thank for it.
His journey in life was responsible for over $40,000 being contributed to the American Heart Association in honor of him – supporting pediatric stroke awareness, education, prevention, and treatment that has no doubt benefited tens of thousands of children nationwide. In fact, his first and only decision he's ever been able to make in his life spurred more than $12,000 in donations to the AHA in this last week alone.
I'd like to thank Chris's wife, Deborah, for treating my son like her own since coming into his life and seeing the same light that we've always seen in his life and smile. Her dedication to helping in his care took a special kind of person. CJ had a way of drawing that reaction from good people because he was a special kind of boy.
CJ gave everyone who ever knew him a deeper sense of appreciation for what they had in their lives and helped put into perspective what they felt they didn't. He gave his siblings an understanding of compassion that few others in this world will ever hold. His life, his struggle, his courage – it was an inspiration to his entire family that will never be able to be replaced and one they will forever carry with them.
CJ's ripple effect on this world is far from over. His life – however short it may have been – will continue to cause change. It will continue to help children nationwide. It will continue to inspire. It will continue to be a driving force helping to shape the world into a better place. We will continue to ensure his impact continues, and his legacy lives on.
My son was, is and always will be my hero.
191 Comments
Please note – I use affiliate links on this site. This means I might earn a commission if you click on a link and sign up for something.