Hey ForbesWoman – WTF Exactly is a "Man's Job"?
You may have noticed the rants category has been a little ignored lately.
Honestly? I've been too busy getting shit done.
But, as I checked into Twitter today, I saw a tweet from ForbesWoman in my stream.

[Blink]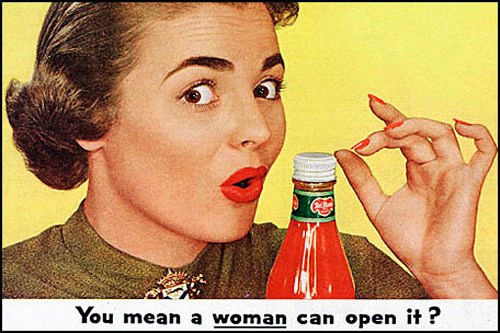 Did I actually just see that? Did I not only see that but see that coming from ForbesWoman? A magazine that is supposed to help educate and empower women in the workforce?
Even sadder, the article (nofollowed of course) was authored (and I use that term loosely) by a woman – Heather Huhman – who claims to be a:
"career expert, experienced hiring manager, and founder & president of Come Recommended. I am also the author of Lies, Damned Lies & Internships (2011), #ENTRYLEVELtweet: Taking Your Career from Classroom to Cubicle (2010), and write career and recruiting advice for numerous outlets."
The article sets women back six decades in the opening paragraph:
"Being a woman in today's competitive job market can be a challenge. Not only do we face a wage gap, but also we have to compete with men."
OMG! Not MEN! We have to compete with MEN?! How will I ever survive? How will I ever fulfill my career dreams when I have to compete with big, strong, smart men?! (No offense to men, you didn't write this crap.)
As I make my way through the drivel, so many words come to mind. Degrading. Belittling. Disempowering (I know that's not a word, but I vote to make it one).
Huhman interviews a man named Alan Carniol who says:
"If women are aware that men may be nailing job interviews at a higher rate particularly in their career field, they should think about changing their strategy. For instance, doing the prep work before an interview is just as important as the interview itself. Conducting appropriate research and tweaking your online and offline brand can present you in a better light than a candidate who didn't do the back work." [Carniol] suggests creating a story that illustrates how your motivations, strengths, values, skills, and accomplishments tie into the position.
So, let me get this straight. Should only women perform this prep work? Men don't need to right? Cause they're MEN!
Every candidate should PREPARE for a job interview. If you're not preparing for your job interviews, and you don't get the job, it's not because you're a woman, it's because you're NOT PREPARED. I hire people constantly, and I can tell you that when a candidate walks through the door and tells me – say – that they haven't even looked at our website to see who we are or what we do? They're not getting the job. Whether they're a man, a woman or the Pope. If you can't show potential employers you're motivated, strong, skilled and accomplished then why the HELL would anyone want to hire you?
These are not interview tips "for women" – these are interview tips for PEOPLE who want to advance their careers. The article goes through a ton more interview advice that applies to men and women, yet feeling the need to assume women are at some disadvantage in all of the situations discussed.
Huhman closes with:
"Although being a woman in today's job market can be tough, using the above suggestions can help you nail the interview and land the job."
Being a PERSON in today's job market is tough. Are there people out there hiring who have a bias towards women? Absolutely. Those are the same idiots that likely also discriminate their candidates based on race, religion, and sexual orientation.
Could you IMAGINE if Forbes posted a career advice article entitled "How to get a White Man's Job" or "How to get a Straight Man's Job"?
Why the hell then, does Forbes thinks it's ok to title an article aimed at career women on how to get a "Man's Job"? And why the hell are the readers of ForbesWoman accepting being told they're less than equal?
The final paragraph of the article asks:
"What do you think? What are some other ways for women to nail job interviews?"
Well, here's what I think. First off, women should stop reading publications that tell them that they're lesser than their male counterparts. I think that you can teach a woman how to get the career they want without first putting them in a little pigeon-hole that you then graciously offer to help them get out of. Being a woman should never be portrayed as a "hurdle" that WE need to get over. In fact, being a woman is an extra asset as much as it can at times be a liability.
Look, I work in the "tech" industry which is predominantly male. And people have asked me how I can "deny" the gender stereotypes within the industry. I don't deny them. They've just never been an issue for me because I don't ALLOW them to be.
A few months ago, my business partner (who is male) and I went to a meeting with a potential new client. My partner had been the point of contact before the meeting. We showed up and the guy behind the desk never once directly spoke to me. He would cut me off as I spoke and essentially ask my partner to finish the sentence I was in the middle of. My partner said later that he wouldn't have been surprised if the guy had asked me to get him some coffee. We joked that we wondered if the guy even realized I was the CEO of the company. (In case you're wondering, we declined to take him on as a client.)
I'm sure women have gone to interview with "that guy" and experienced hiring bias. But would you really want to work for "that guy"? Would you say yes to a job working for someone who thought you were beneath them for ANY reason? Regardless of your gender? If you are willing to take that treatment or accept that opinion of your self-worth, then I submit to you that the reason you don't get the jobs you want or the raises you want or get the "chances" you want are because you don't believe in YOURSELF enough to demand them – and make bold moves if you're not receiving them.
Ultimately, you have the choice as to whether or not you LET being a woman be an excuse as to why you're not where you want to be career-wise.
Shame on you ForbesWoman. #unfollow
Please note – I use affiliate links on this site. This means I might earn a commission if you click on a link and sign up for something.