Genesis Theme for WordPress Review
Those with a sharp WordPress eye may have noticed that Sugarrae flipped to using the Genesis theme today.
What? The long time Thesis theme evangelist has gone Genesis? Yes, on Sugarrae.
But, you can find more on Thesis vs. Genesis and why I switched the Sugarrae site from one to the other here. For right now, we're going to focus on reviewing Genesis.
Genesis is produced by StudioPress, the team of which I'm no stranger to. I've known Brian Clark for several years now (oddly he was the person I initially heard about Thesis from). So when he initially released Genesis, I bought a copy right away to check it out.
The Packages

Ok, bear with me here. I purchased the Pro Plus package which gives you the Genesis framework and access to all of the child themes StudioPress produces – current and future – included in one base price. The current price on that is $349.95 – though I can't remember if that was the price of the package when I purchased it back when.
If you're looking to only use it on one or two sites, you can check out the Framework + theme package. For under $100 bucks (most are under $80), you get the framework and one theme – and you can buy additional themes from StudioPress and the StudioPress marketplace without having to repay for the framework (most themes I see are $25 or less).
You can also get the framework only for $59.95. But the one and only sample design that accompanies it is uber basic – and the designs are one of the bigger advantages to Genesis as far as I'm concerned.
Whatever package you choose to go with, you can use it on an unlimited number of sites. There is no Single License vs. a Developer's License. And all of the options get you unlimited updates and support.
The Framework
The Genesis Framework touts several features. Built in SEO, turn-key designs, security, instant updates, mega widgetization and various layout options for said turn-key designs.
The automatic and instant updates rocks. Not having to FTP an update for the framework is awesome.

The Theme Settings page has a ton of different options. You can choose a color style, add a custom feed URL, and choose a default layout for the theme (You can also opt to use different layouts only for specific posts or pages on the individual edit page or post screen).

You can automatically insert breadcrumbs, choose whether or not to allow comments and trackbacks on all posts and pages, adjust how the content archives display and allows you to do some minor customization to the site's "blog" page.
It also allows you to input header and footer scripts (like favicon calls and analytics tracking code) via the WordPress dashboard.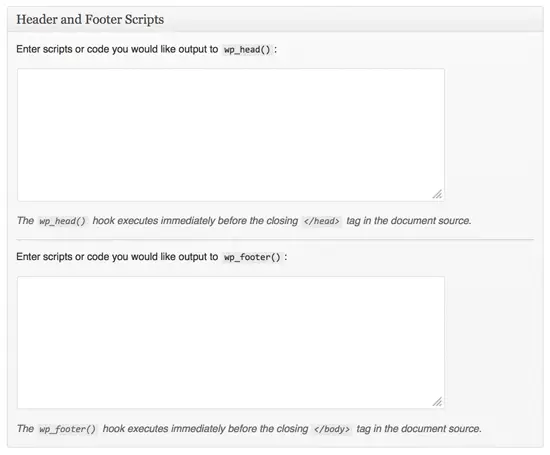 If you opt only to get the framework that comes with the free sample theme, you won't be able to upload a header and background automatically through the WordPress backend. If you choose to use any child theme, you can.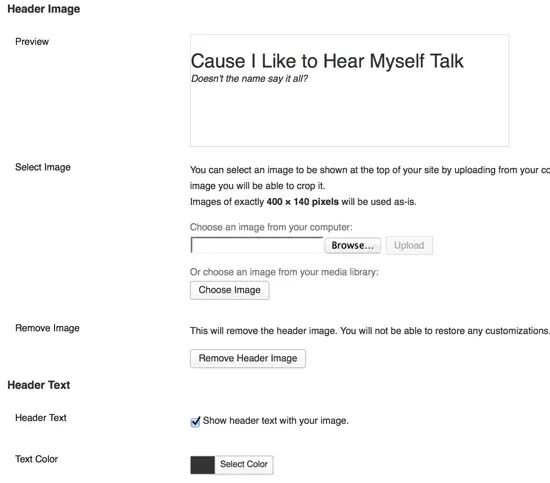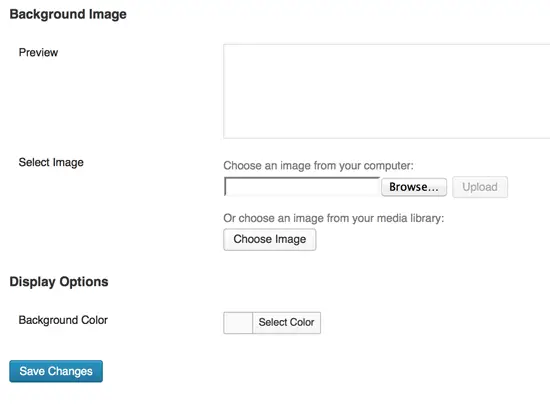 You're on your own when it comes to a Favicon though. You'll need to upload the favicon through the WordPress Media Library or FTP and then add the code to call it into the document head on the Theme Settings page.
Another really cool Theme option? To choose to display an author bio box on individual posts and/or the author archives without doing a thing code wise. You won't find this in the Theme Settings though. You'll need to go to Users > Edit User and then tick of the boxes that say to show the author's bio.

This box will display the Gravatar of the user, the display name of the user and the bio of the user that you input in the box below on the User Edit screen.

You can also choose to show author bio boxes for some authors and not others should you choose.
SEO Features
As for the built in SEO, IMHO, while there are some great built in SEO features that are much better than what comes with standard WordPress, it's still missing enough that you can't scrap your WordPress SEO plugin by Joost – even if it were solely due to the ability to edit .htaccess and robots.txt in the WP dash. But it's not.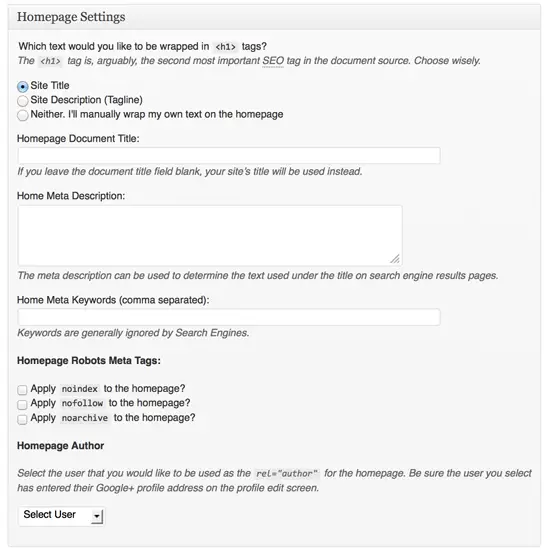 You can edit document title settings, homepage settings (see screenshot above), edit robots meta functions, some head settings and canonicalize the archives (though I wouldn't recommend you enable that last option).
But you can't strip the category base, redirect attachment URL's to parent post URL, force a trailing slash on URLs, create custom templates for different post types and taxonimies and several other things that I do with Joost's plugin, including Video SEO (and add on to the WordPress SEO plugin) – so I'm sticking with it.
However, mega added bonus? Genesis has rel authorship tags built into the framework. Simply add your Google+ URL to your user screen, add a link back to your author archive from your G+ profile, test it and you're done. Seriously, it's that simple.
IMPORTANT NOTE: If you're already using an SEO plugin like Joost's, you will not see the SEO Settings page in the Genesis links on the sidebar. That only appears if you're not already running an alternative SEO plugin. (This was something that confused me at first, so I figured I'd relay that tidbit.) If you want to ditch your old SEO plugin (or were using a theme that also had built in SEO) and want to use the Genesis SEO features, you can import your data with this plugin.
Child Themes
I've actually been using the Genesis theme for quite some time now on some smaller niche affiliate sites. The availability of tons of child themes (read, designs to slap on top of the Genesis framework) were a big draw for me in that regard. My flagship sites all have custom designs. But I don't want to drop thousands on a design for every site I put up and I am horrible with CSS. So, I started launching some of those sites with Genesis.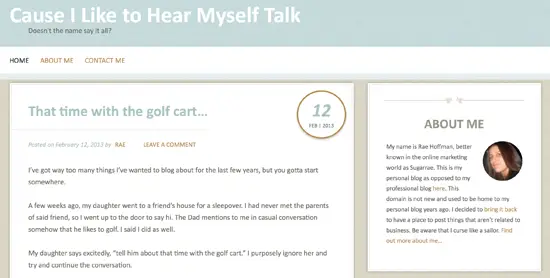 For instance, a few weeks ago I resurrected my personal blog (which I'd killed back in 06). I already owned Genesis and shelled out an additional $20 bucks (because the one I liked was in the StudioPress Marketplace) to buy the child theme. It's pretty much plug and play design (except for me neurotically having to change the font to Calibri and not having a logo). And it took me less than an hour to throw up from WordPress install to "Done!".
NOTE: You must have upload and install both the Genesis Framework and the child theme for child themes to work.
Child Theme Examples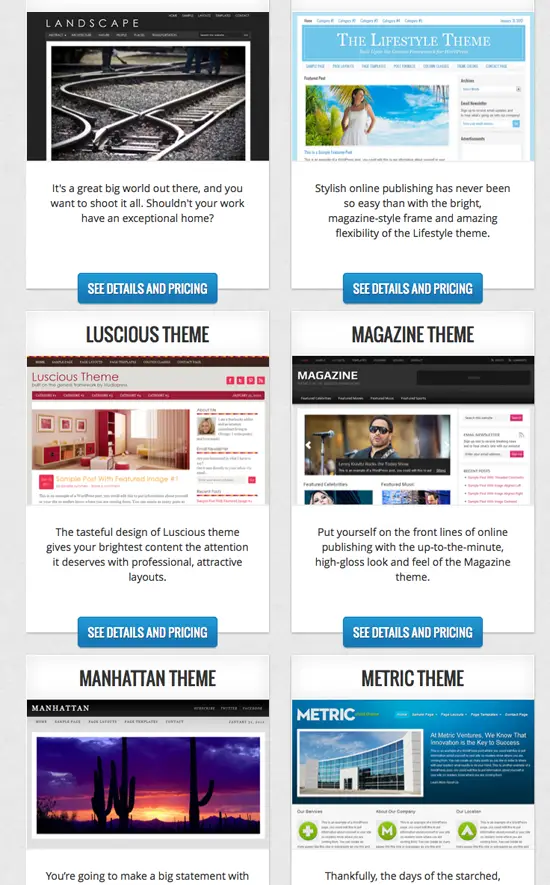 Child Theme Documentation
Not all of the child themes come with fantastic documentation though. For example, when I implemented the Luscious theme on one site, I kept having the featured images show twice in every single post page. In this particular theme, if you put the featured image IN the post AND use tell it to "show the featured image" on the homepage in the Theme Settings option, it shows them twice on the single post page like some kind of image circle around the post title. It took me about 20 minutes to figure out that was the issue. I'd like to see them improve on the level of documentation provided. That said, a little tinkering and you figure it out. I'd just prefer not to have to tinker.
Fully Featured Widgetizations
The child themes are a big draw for me in regards to using Genesis over Thesis on the aforementioned sites. But, they're not the only one. I'm very used to using hooks to create site features in custom functions. Genesis however tends to rely more on widget plugins.
The good thing about that is zero coding to get sexy features. The bad thing about that is the features are dependent on WordPress plugins and them being compatible with the 9 million WordPress updates released each week. However, so far, I haven't had an issue. Plus, for those who avoid plugins, you can still hand write functions for Genesis. More on that further down.
I won't lie, the first time I used a child theme that relied heavily on widgets, I was a bit confused. So I had to RTFM that came with the theme. And that's when it happened. That's when I started to fall a little bit in love Genesis.
It all started with the News theme. I literally – I shit you not – sat there open mouthed for about five minutes after I built the site in awe at how quickly I was able to mimic that exact layout, change the color scheme and have a site that looked like a magazine – without writing a single line of code. It was all done with widgets.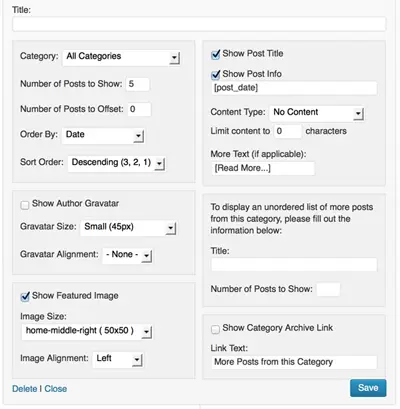 Pros of the above? Freaking obvious. Cons? The widgets do offer a huge level of customization without code, but for very specific needs, you're still going to need to learn to some code (or pay someone else to do it).
For instance, the homepage on Sugarrae wouldn't have been possible without some custom code work. But for the average blogger, you'll likely be able to widgetize almost all of your "custom" needs (though some themes will be more robust than others).
You can find additional widgets developed by StudioPress that are not included with the framework by default here.
Creating Your Own Theme Functions
You can add custom functions that can't be (or that you don't want to be) handled by widgets to the Genesis Theme Functions file for going to Appearance > Editor > Selecting your theme from the dropdown and clicking on functions.php.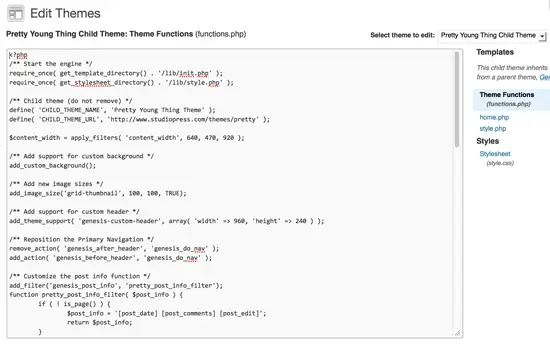 You can find the official Genesis hook reference list here. And you can find a visual Genesis hook list here. You can also find a few tutorials for common things people need to add here. I don't see much difference between using functions and hooks in Thesis (hook tutorial I wrote) vs. Genesis aside from the hook names being different (that and Thesis has more hook options).
Only need to make a few simple customizations (like changing what appears in the footer) but don't want to deal with code? Genesis has an official simple hook plugin that they produce – which means if the framework gets an update, the plugin does as well.
NOTE: If you plan to use the generic Sample Theme that comes with the Genesis Framework AND make any edits to the functions or CSS files, be sure to download it separately and upload it as a child theme to avoid future framework updates from overwriting any changes you make.
Making CSS Changes
Pro – Genesis offers a ton of very well designed child themes. Con – there is no CSS or design editor built into the framework to change minor aspects of the CSS on those themes (except with the Prose child theme which essentially has zero graphics in the design). Most themes come with a color changer that allow you several color options for a child theme. But if you're looking for specific colors and not general Orange, Red, Blue, etc. then you're going to have to go into the CSS file for that child theme and edit it yourself.
That said, Andrew Norcross developed a plugin called the Genesis Design Palette that will allow you to make simple CSS changes (like link colors and font types and sizes) within the WordPress dash.
However, be aware that this plugin is not necessarily compatible (AKA will work) with all child themes. Different theme designers sometimes use different markup.
My opinion
I think Genesis is a fantastic framework. Amazing options, especially for those who want a killer design on a tight budget. And for those who find the included options above – that require coding to accomplish elsewhere and don't with Genesis – a need for their website. Honestly, it's a killer theme at a killer price with killer designs and killer support. And it allows you to get your site up and fit for visitor consumption lightning fast.
And as evidenced with today's flip, Genesis is now my theme of choice for Sugarrae.
Please note – I use affiliate links on this site. This means I might earn a commission if you click on a link and sign up for something.