Recently I've been doing some articles aimed at the beginner affiliate – like how you can avoid affiliate marketing scams and how you can find reputable affiliate programs to promote.
After spending over a decade in the Internet marketing industry, I think I often forget – and have failed to address – the most obvious question most folks new to the industry have about affiliate marketing.
When I appeared as a guest on Weapons of Mass Marketing earlier this week to discuss the topic of marketing affiliate programs, the hosts evidenced the importance of the often overlooked question by leading off their interview with a variation of it…
"How does affiliate marketing work?"

So with the help of (and payment to) a very talented designer I was able to develop a clear, step by step graphic of how basic affiliate marketing works (click on the image below for a larger version):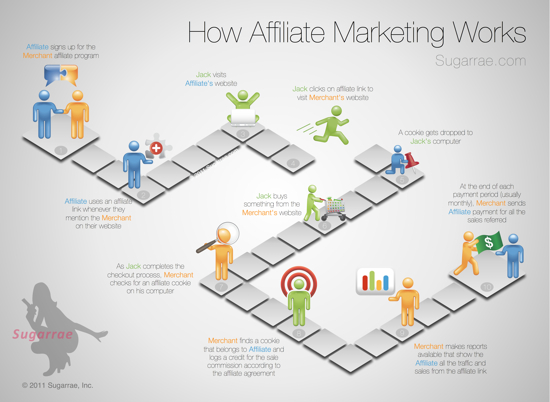 Spread the word!
You're welcome to use the above graphic on your own website, providing you credit me (Sugarrae.com) as the source and do not alter the image. Below is HTML code below to easily embed the graphic on your blog or website:
Click here to view a larger version.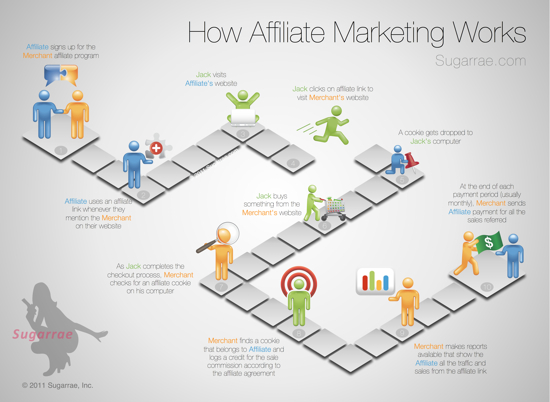 [Image provided courtesy of the Sugarrae affiliate marketing blog.]
Get the poster!
The infographic above is available in high quality poster format via Zazzle for $27. Why such a high price? Because all proceeds from the poster sales go to the Stroke Walk to help fight childhood stroke. Get it now!
Getting started in affiliate marketing…
Now that you know WHAT affiliate marketing is, find out how you can take a stab at it.
Me? I plan to distribute this to family and friends so they might actually understand what I do for a living. ;-)
Cheers!