UPDATE: Please see the added "note" below before deciding to purchase.
Several years ago I started a newsletter and collected several thousand sign ups. But I never sent a single email. I hadn't yet learned the power of email marketing. After deciding it was pointless to pay for a list service I never used, I let the list drop.
In December 2010, after having put a bit more faith in email as a marketing channel, I decided to give it another go and once again signed up for an Aweber account and began rebuilding my list – from scratch. I added the sign up form to my sidebar and tweeted I'd started the list.
And that was pretty much the extent of my promotional efforts. After the initial flood of subscribers from my tweets announcing the list, I got a new subscriber every day on average.
A few months went by and I decided to add the Feature Box that is available in the Thesis theme (which I use here on Sugarrae) to my homepage. I included the newsletter sign up form in the feature box area as well. Subscribers increased to about two a day.
But I wanted to start putting significant effort into building my list. So I did some research on increasing newsletter sign ups and it seemed that most experienced list builders agreed on one thing… pop ups advertising your newsletter were perceived by some to be annoying, but they worked.
But even though people claimed they significantly increased subscriber numbers, I wasn't 100% sold on adding one – even to test it out. I didn't want a pop up coming up every time someone hit another page on my site or every time my regular readers came to visit the site. I also didn't want a pop up coming up at *all* on the service pages in my SEO consulting section of the site.
So I did some research on pop up plugins for WordPress to see what was available (and if I could find a plugin that had the options I was looking for) and came across a few plugins – one of which was PopUp Domination.
UPDATED: PLEASE NOTE
When I originally bought PopUp Domination it was owned by Deer Digital. I guess they have since sold it and I am none too pleased with the customer service provided by the new owners. For whatever reason, the plugin stopped updating once the new owners bought it. When the latest version of WordPress came out, the version I was using (2.5) was no longer compatible with WordPress and caused the backend to give the white screen of death.
After several hours, I found that PopUp Domination was the culprit. I also saw on the plugin screen that the plugin was now blank in regards to description and wouldn't auto-update. So I contacted Deer Digital and they informed me it had been sold (I guess that explains why the price was jacked from $47 when I purchased it to $77 now). So I contacted the new company. They explained I needed the updated version (3.0) in order for it to properly work. I was beyond annoyed they didn't take the steps to not create this aggravation for current subscribers, but I downloaded the new version because I really like the plugin.
Then I get taken to a screen that wants my order number. I bought PopUp Domination in August 2011. I have ZERO idea where the hell the receipt is and contacted them to ask them to resend the number I needed (I wouldn't have even needed it had they properly migrated the plugin via WordPress). They tell me they don't have that information and to paraphrase, I'll simply need to buy it again. Each and every email "back and forth" takes almost 24 hours to complete.
Needless to say, I'M NOT RE-PURCHASING SOMETHING I'VE ALREADY PAID FOR.
I've always told you that I won't recommend something I myself wouldn't use – so I am no longer recommending PopUp Domination regardless of the fact that I was selling a nice amount of them. But if this is their (lack of) customer service, while it is a good product, I cannot in good faith recommend it.
I will find a replacement and post on it soon, because everything ELSE about my review and how effective the popup forms were is still accurate.
I'm leaving the rest of the post because I think it contained good statistics and because if customer service doesn't really concern you like it does me, then by all means… the plugin itself is still what it was when I originally recommended it (I originally rated it 4 stars, but due to the above, I have dropped them to a 2 star rating).
My PopUp Domination Review
I installed the plugin and quickly found the control panel under Settings. From there, I saw several tabs and after insuring that the plugin was INACTIVE while I worked on it, I went through each options tab one by one.
Look and feel
The look and feel tab is exactly what you'd expect it to be. From here, I was able to choose from seven pop up layouts and eight colors that I could assign to my submit button. There were also 14 color schemes (their site says 15, but if you look at my screenshot below, you'll see I for whatever reason only have 14) to choose from. I chose bright orange because it most closely resembled one of the colors on my own site.
However, that was it for look and feel options. If I wanted to change the font, I needed to do so by editing the core CSS file found under the "Advanced" tab. I use Calibri here on Sugarrae and I'm a bit anal retentive when it comes to matching things as much as possible. Editing the CSS file to change the font type and sizes wasn't hard, but I'd have preferred to see it built into the look and feel options. Additionally, I wish there had been a way to easily assign a custom background image to the submit button via the control panel.
Mailing List HTML
PopUp Domination claims to work with all mailing list providers. However, I use Aweber, so that is all I tried it with (it worked perfectly.) I was a little bit confused when I hit this section. I obviously "got" that this was where you were supposed to enter your mailing list code. At the top of the page, a message appeared saying "Enter your html opt-in code below and we'll hook up your form to the template." But the Aweber forms include a ton of styling. Did I need to strip anything?
The answer, I found out, was no. You copy and paste the opt in code exactly as it is given to you and the plugin strips out what it doesn't need and only uses the fields that it does. If the creators ever read this post, I hope they consider changing that line to read "Enter your html opt-in code below exactly as your mailing list provider gives it to you and we'll hook up your form to the template automatically and strip out whatever we don't need."
Template Fields
This is where you start writing the content that will appear on your pop up. The title, a short paragraph (if applicable), the footer note about privacy, the image shown on your pop up and the submit button text can all be customized.
However, take note that the fields listed here change based on the pop up layout you've chosen to use. I quickly had someone ask me how I got the Sugarrae logo to appear on mine. When I told them I uploaded it via the Template Fields panel, they told me there was no option to upload an image there on theirs. But the actuality was that they were using a pop up layout that didn't include an image, so the option wasn't there until they switched to a template that DID use one.
List Points
Each template has a list of bullet points you can use to entice people to take whatever action you want them to take (in my case, I want them to subscribe.) The List Points screen is where you add them. There is a limit of four list points.
The PopUp Domination control panels explains to you that they limit the list points to four in order to ensure "that the design will remain beautiful and result in high conversions." I'm not exactly sure why this isn't simply included in the template fields tab, but for whatever reason, the creators seem to feel it deserved its own.
Schedule
The scheduling tab is the most important to me. From here you can determine when, to whom and where the pop up (or lightbox as it's referred to in the control panel) gets shown. For instance, my pop up is only shown to the same person every seven days. I also have it set to show immediately (a 1 second delay) because I *hate* when I'm 30 seconds into reading an article and am interrupted by one. My pop up is also set to only show on my homepage and my category pages.
The reason I show it on my homepage and category pages results from a conversation I had with conversion master Derek Halpern.
He'd mentioned that your homepage, category and about pages are your "warm" pages. What does this mean? Well, most of your traffic may likely come in from individual search phrases. I don't want to bombard someone with a pop up who hasn't even had a chance to read my content yet. But, if they like what they read, they're likely to click on the homepage, a category page or my about page to learn more about me or read more of my content. At that point, they're interested in me (or my information) and would likely be more receptive to receiving my newsletter.
That said, the Scheduling tab gives you a ton of control to ensure you find a level of "promotion" with your pop up that you're comfortable with and doesn't scream tacky… in your opinion. ;-) You can choose to show it on exit, on specific pages, solely on category pages or also on posts within those categories… or you can choose to simply show it everywhere.
Preview
The preview tab is exactly that… a preview of your pop up once you've customized it through all of the tabs in the Popup Domination control panel. For instance, my pop up looks like this…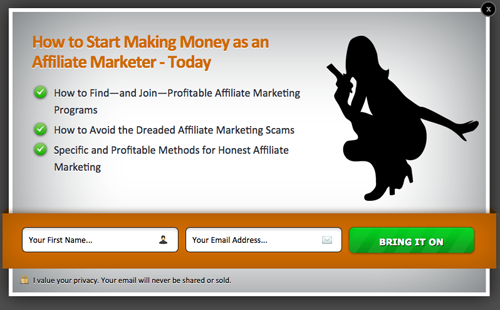 Advanced
The Advanced tab offers you access to the theme.txt file, template.php file and the lightbox.css file. I'd definitely recommend staying out the theme.txt file and the template.php file unless you seriously know what you're doing. The CSS file? Well that you can play with. ;-) Thankfully, the creators were nice enough to include a "restore to original" option under the CSS style sheet. This way, wanna be CSS people like myself can hack away and have the option to restore the original file if we mess it up if we don't like what we've implemented.
My overall opinion
My overall opinion of PopUp Domination is a positive one. I didn't need to be a design expert to get it functioning (not even mildly) but they've left room for me to be able to implement a little more if I have the CSS or PHP ability through the "Advanced" tab. The scheduling options mean that I only have the pop up showing where (and when) I want it to.
Pricing starts at $47 for a personal license. Based on my results? (see below) It was *more* than worth the cost for me.
Pop ups work
I know, I know. I view them as annoying as well, but the proof is in the numbers. And in my experience there was absolutely no denying that the pop up advertisement worked – ridiculously well.
My traditional sign up forms have been in place since December 2010 – so they've been up in almost nine months. I installed PopUp Domination and set it live late in the evening on August 1, 2011. That means as of the time that this post was written, PopUp Domination has been running for fifteen days. When I added the newsletter code to the plugin, I assigned it a special tracking code in Aweber named "popup". The results? Even I was surprised.
(Exact numbers removed for privacy.)
I couldn't believe it. In only 15 days, my pop up now accounts for over 21% of ALL subscriptions to my list. You (and I for the matter) can cite their annoyance all we want, but the numbers don't lie. People evidently pay attention to it. They not only see it, but they act on it.
(The big leap on the second was due to guest blogging on a high traffic blog… guest posting – it works.)
If it turns out y'all have more of an interest in email marketing, I'd be glad to share more of what I'm doing with the Sugarrae newsletter as I go along. ;-)